What is a GSM Interceptor Alarm & Does my Business Need One?
Are you looking for a solution to protect your business from the risk of pollution from drainage issues? A GSM Interceptor Alarm is what you need. This guide will explain what an interceptor is, how an interceptor alarm works, why it's important for businesses to have one and why Express Drainage Solutions are experts in interceptor services.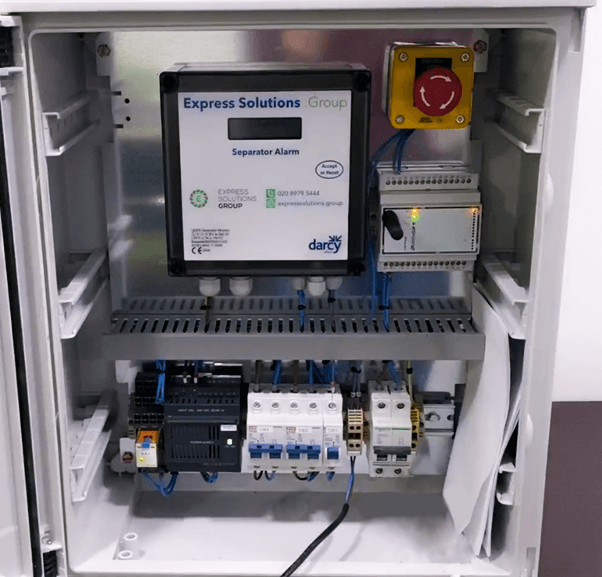 Keep reading to learn more about this indispensable environmental protection device!
What is an Interceptor?
Drainage inceptors are a drainage network's final lines of defence. They're designed to intercept surface water run-off and trap and prevent contaminants from commercial and industrial sites from creating a pollution hazard and jeopardise an organisation's health, safety, and environmental legislation compliance.
What is a GSM Interceptor Alarm?
A GSM Interceptor Alarm is designed to monitor up to two oil/water separator tanks for the build-up of oil, silt or excessive liquid in the waste tanks of the interceptor. The capability of this unit will also allow 2-way communication to notify up to 8 designated users by text message.  Any changes within the system are communicated via text message to engineers or the maintenance team in charge of monitoring the tanks. A manual probe status check can also be initiated at any time by pressing the button on the front of the unit. The warnings allow you to take corrective action, ensuring the separator's safe and economic operation, preventing oil from passing through and polluting watercourses, which could mean expensive fines.
Why does your business need an interceptor alarm?
The Environment Agency recommends that interceptors are cleared every six months to avoid blockages, prevent pollution of a commercial drainage system, and protect the environment around a site. This is why it's so critical for businesses to employ the skills of a specialist team, like Express Drainage Solutions, who offer commercial drainage services, to clear and maintain interceptors regularly and introduce an interceptor alarm into their system, like the GSM model (link). Manual inspection, maintenance and servicing can offer peace of mind that the pollution risks are minimised as much as practically possible – avoiding potential fines and costly remediation efforts should contamination occur.
GSM interceptor alarms are an invaluable asset for businesses looking to protect their drainage networks from the risk of contamination. 
We provide complete assurance that all necessary steps have been taken towards mitigating risks associated with improper management and maintenance activities related to your company's sewage systems & drains, along with comprehensive coverage on any emergencies that may arise! 
Don't wait – contact us today to learn more about our GSM Interceptor Alarms and commercial drainage services.