Remember that old adage: 'out of sight, out of mind?' Nothing could be more apt when talking about road gullies, drains, or toilets. None of us want to think about what happens to the waste we generate – until the drains start flooding or sinks begin backing up, that is.
Specialist Work requires Specialised Vehicles
To prevent the risk of blockages and flooding, especially when the waste could be contaminated, specialist teams with specialised vehicles, such as the experts at Express Drainage Solutions, work to keep drains and gullies clear, as well as emptying cesspits and septic tanks.
Working throughout the London area and surrounding counties, Express Drainage Solutions operate specialised slurry tankers designed to cope with every eventuality in the liquid waste and wastewater removal business.
Combination Vacuum Tankers

Organic Waste Extraction Vehicles

Contaminated Waste Tankers

High Volume Liquid Tankers

Vacuum Gully Suckers
Our staff are long-standing, competent professionals who have worked within the industry for many years. We are fully licenced to cover every eventuality, including hazardous waste, and work within the guidelines of The Control of Substances Hazardous to Health Regulations, The Road and Street Works Act, and The Health and Safety Act.
Gully Cleaning
Consider the thousands of miles of roads throughout the UK. All those roads have gullies and drainage systems which have to be cleared regularly of leaves, litter and other debris to ensure that water can safely drain away.
Local authorities are responsible for the majority of these roads, with the remainder being privately owned. Express Drainage Solutions' fleet of vehicles are constantly working with both local authorities and private landlords to maintain these drainage systems, helping them to cope with the UK's adverse weather conditions.
During these maintenance periods, drains are inspected for breakages, high pressure jetted to remove possible blockages, and the accumulated detritus vacuumed up by the gully suckers. If broken or damaged pipes are suspected, CCTV surveys are also carried out.
Septic Tank and Cesspit Services
Septic tank and cesspit emptying, both domestic and commercial, are vital tanker services, and we provide full emptying and maintenance plans to suit your personal requirements.
Recognition of relevant health and safety policies, as well as hazardous waste regulations, is a must when operating in this environment, so should you have any concerns regarding the efficient operation of your septic tank or cesspit, a call to the office will have one of our engineer's on site as quickly as possible.
Additional Services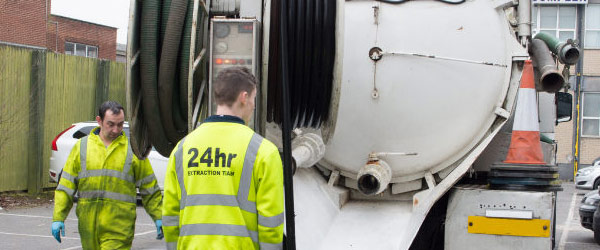 To complement our range of services, we also offer a comprehensive 24/7 emergency tanker call-out service for the removal of liquid waste and storm water should the need arise. Contact Express Drainage Solutions today today for full information on all the services we can supply.