The C

lient
Wismettac Harro Foods Limited are an imported food supermarket based in Surrey. They needed assistance to install some channel drainage and speed humps on their site.
The Solution
In a designated area the team will excavate for no more than 22m through the reinforced concrete.
Within the excavation, we laid a concrete base. We did this due to the weight class of the vehicles above.
On top of the concrete base, we installed 22m of new S150 ACO drainage with two sumps.
We installed concrete expansion joints against the existing concrete slab and the excavated area.
Then we surrounded the new Aco Drainage in concrete and DPM membrane. This is located approximately 0.2m on either side of the excavation, up to the expansion joints.
Within a designated area we installed two 1.9m x 1.9m concrete speed cushions to limit speed to 5mph. Due to the area in which this is being installed, this will be undertaken in two sections to keep access open to vehicles entering and leaving the site.
As a final step, we restored the area and made it presentable.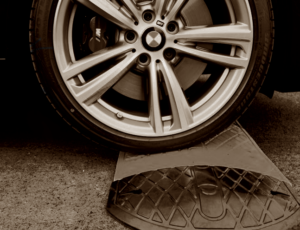 The Outcome
The client has reported that both the speed humps and the channel drainage that has been installed for Express Drainage Solutions have been working effectively with no issues. Their food transportation lorries have been slowing down in the area and water has been effectively diverted.
Find your local engineer today
Enter your postcode